The Guardian selecciona vint-i-sis vídeos d'assistents a la V de la Diada
Havia fet una crida prèvia a la manifestació perquè els assistents enviessin imatges
El diari anglès The Guardian va fer una crida els dies previs a la Diada perquè els catalans que hi pensaven anar els enviessin fotografies i vídeos per fer-ne un recull. La cobertura del diari anglès va ser molt gran des d'un primer moment i ha publicat les imatges seleccionades en un article titulat '
La mobilització catalana pel referèndum d'independència, en imatges
'. A continuació us oferim la llista de vint-i-sis vídeos que ha fet el diari anglès
Catalan independence referendum demonstration: in pictures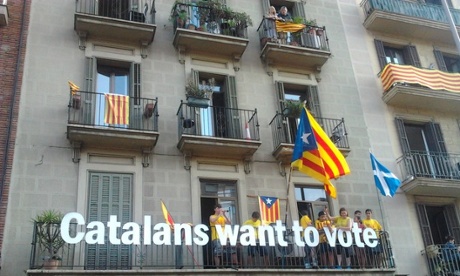 Around 1.8 million people staged a massive protest yesterday in Barcelona for the right to vote on Catalonia's political future on the 9th of November, a date for which a referendum-style consultation is planned which still faces blockage from Madrid. The demonstration had a V shape – the V standing for "votar" (voting) and "voluntat" (will) – and its participants also formed a human mosaic of the Catalan flag, with red stripes on a yellow background.
At exactly 17:14 local time, the V was formed as the two 11km-long strands of people got together:
At that time, a girl symbolically placed a vote in a ballot box at the vortex of the "V".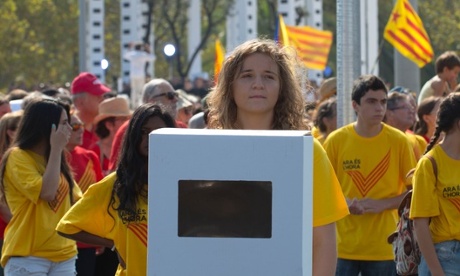 Some famous personalities joined in, such as FC Barcelona footballer Gerard Piqué:
Scottish ex-footballer Steve Archibald was tweeting to inform his fellow citizens:
Continuing with the Scottish theme, messages of solidarity were tweeted:
The mosaics included some international leaders and their faces, with accompanying messages saying "Mr/Mrs President/chancellor, Catalans vote freedom" in different languages – here is Angela Merkel's: